Welcome to the Bruder Eye Care Professional Portal
The Bruder Professional Portal provides access to exclusive bulk pricing for the Moist Heat Eye Compress and more plus additional deals & products. Not a member? Request access using this form to receive portal login credentials within 1-2 business days. Have questions or need help ordering? Contact us or call us at 888-827-8337 and we'll get in touch!
Login to the Portal
Sign up for the Portal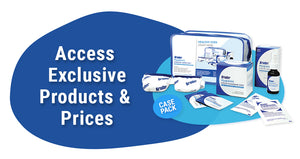 A Product for Every Patient
Bruder products can help prevent and treat sources of pain and discomfort related to patients' dry eye, blepharitis, allergies, sinuses, and more! Increase compliance and help patients take control of their eye health and discover what Bruder products will help their particular needs.
Dry Eye Drink by Bruder
A new and innovative sugar-free hyper-hydration drink mix from Bruder Healthcare is available in three flavors: Mixed Berries, Strawberry Lemon and Orange and AM and PM formulations.
Log in to Order Now
In-Office Allergy Testing
Discover if allergies are contributing to your patients eye irritation by testing for 78 common airborne and environmental allergens.
Learn about AllerFocus
Make life easier for patients with dry eye and eye pain
Whether you're seeing your patients in-office, online, or over the phone, the all-in-one Bruder Hygienic Eyelid Care Kit including the Bruder Moist Heat Eye Compress helps keep their eyes healthy until their next appointment. Just what the doctor ordered!
Shop now